Best way to do fast check of BVN on Glo By Dumebi Tokpe
Glo is one of the top GSM companies in Nigeria, and they have a lot of subscribers across the country. This company has done a lot to make life and communication easier for people including when it comes to managing their back accounts. Nigerians have already noticed the positive impact of biometric identification system on their lives. But some people are a little confused on how to check BVN on Glo. If you do not know how it works yet, then let's take a look together!
On February 14, 2014, The Central Bank of Nigeria in collaboration with all local banks in the country established a new bio-metric identification system for the national banking procedures. The process led to the creation of the Bank Verification Number (BVN).
READ ALSO: How to recharge from UBA account
The BVN uses a biometric technology, not just a signature to register all financial clients in the Central bank of Nigeria financial system or local banks' system. It is a very convenient way of keeping track of customers, as a lot of people cannot write themselves and it is much safer for account owners in case of fraud.
The Bank Verification system uses physical features for registration. Since every person has their own unique features, such as fingerprints and look, it is a very secure way of ensuring the privacy of each client.
After the registration, these unique characteristics can be used to identify the person. The bank can also track all the customers' transactions across the country to prevent any fraudulent attack. The service is available 24/7.
How to check the BVN via USSD Code on Glo
If you want to check your Bank Verification number, then you do not get ready to do a few things.
1. First, make sure that your number is linked to the Nigerian Inter-Bank Settlement System (NIBSS), which will send you the BVN number after dialing the special code.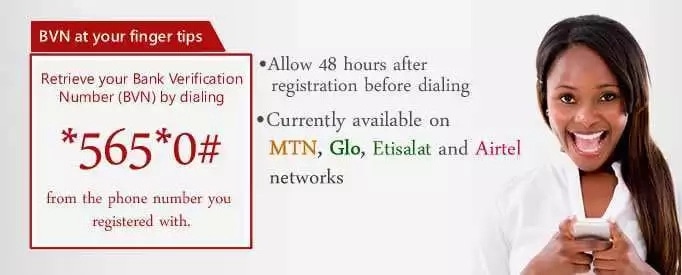 2. Once you know the phone number that is linked to the bank account, then simply dial *565*0# and you will soon get your BVN number. It's not so difficult, is it?

If you want to secure all of your financial transactions and ensure that your account will not be accessed by any third parties, then ensure you know and use your BVN number. This number can be checked on a number of platforms including Glo. Register your account on Glo and you will be able to check your BVN anytime.